Information
Reservations
To enquire about available dates for rental, please email us at

This email address is being protected from spambots. You need JavaScript enabled to view it.

Or find us on AirBnB
Getting there
Belmont is located on Alligator Head, overlooking San San Bay

San San Bay is approximately 15min east of Port Antonio in Portland Parish, Jamaica

Port Antonio is a 2.5 to 3 hour drive from Kingston's Norman Manley International Airport (KIN)

Alternatively, it takes approximately 4 hours from Montego Bay's Sangster International Airport (MBJ)

Both airports have several car rental agencies on site. Remember: road conditions are not always great (although they have vastly improved in recent years), traffic can be chaotic, and Jamaicans drive on the left side of the road.

We are happy to arrange for a driver upon request.
Getting around
Having a car is definitely useful to get around the area and we would recommend renting one.
However, it is possible to manage without. The property is a few minutes' walk from the main road where one can hail down route taxis for a moderate fee (do agree on a fee before getting in though). It is also possible to walk to Frenchman's Cove Beach and San San Beach (5-10min walk).
There is no public transportation.
We can arrange for a personal driver upon request.
What to bring
Sun screen and a hat: Jamaica is sunny and hot. Make sure you don't get sun burned.
Umbrella: it rains very often in Portland, that's why it is so green and lush. Showers rarely last for more than half an hour or so. Nevertheless, it's good to keep an umbrella in the car.
Mosquito spray: thanks to the constant sea breeze, there are not a lot of mosquitos at Belmont, however, there are usually a few of these bloodthirsty creatures at night and it is best to use protection in the evenings and mosquito nets in the bedrooms.
Cash (see Money section below). There are ATMs at the airports and in Port Antonio.
Beaches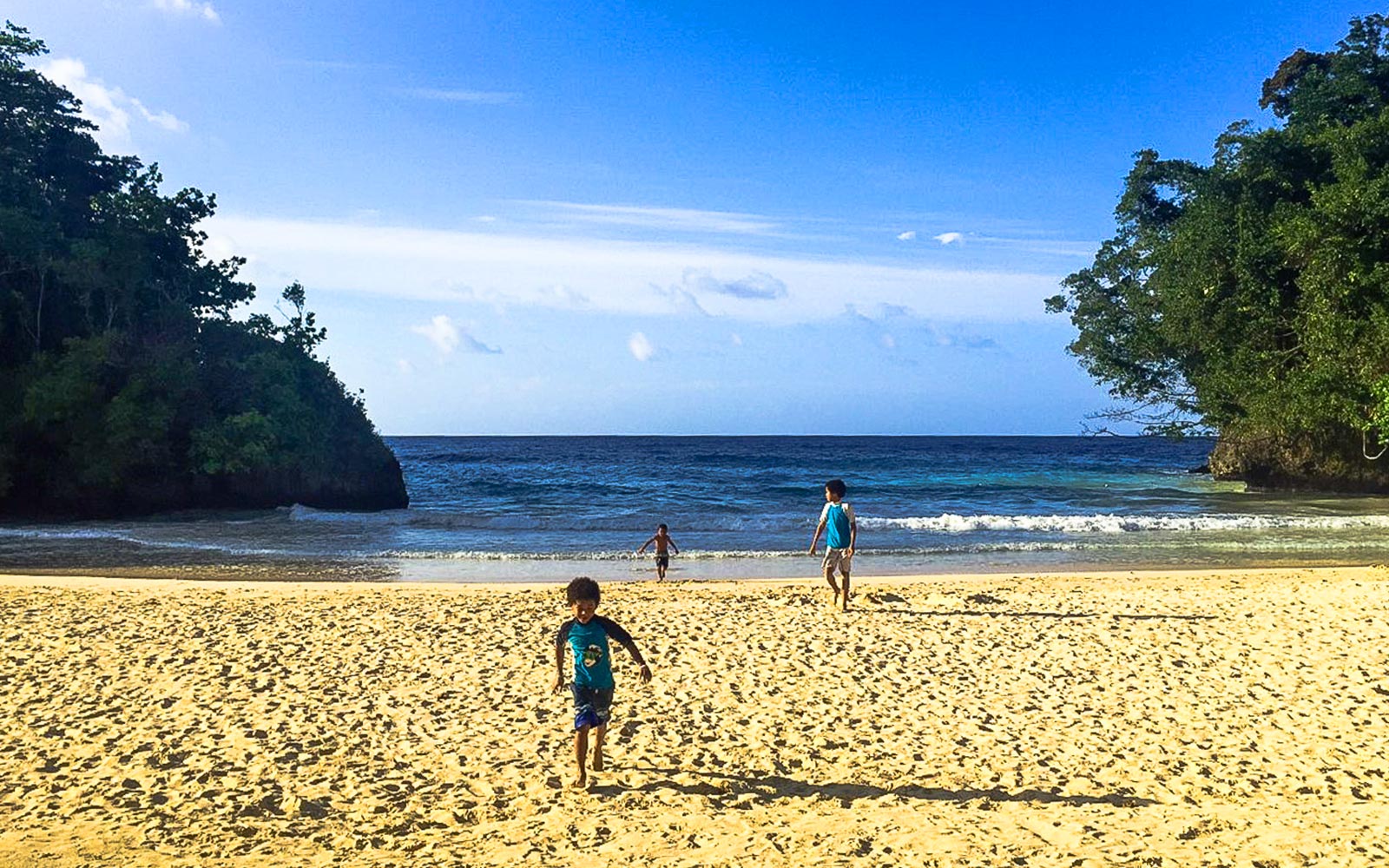 Frenchman's Cove, one of Jamaica's most beautiful and idyllic beaches, private property / entry fee, 10min walk.
Winnifred Beach, popular beach where locals and tourists mingle, public beach, 15min drive.
Boston Beach, small but nice little beach next to the famous Boston Jerk Center pits, public beach, 10min drive.
San San Beach, beautiful setting with views on Monkey Island (same as from the property), private property / entry fee, 10min walk.
Long Bay Beach, long beach with white sands and enormous beautiful waves, but unfortunately full of trash, hence a bit of a turn-off, public beach, 20-30min drive.
Blue Hole / Blue Lagoon, brought to fame by the movie of the same name, starring Brooke Shields, mix of fresh water and sea water, somewhat run down private property / entry fee, 5min drive.
Supermarkets / groceries
Ramtulla's Supermarket is situated on the left side of the main road as you drive from San San into Port Antonio. It stocks all major groceries and is open until midnight every day.
There are countless stalls by the roadside selling delicious fruits and vegetables at very modest prices.
Restaurants / food / entertainment
Best food option: get our chef and eat at Belmont. Truly wonderful and at a fraction of the cost of some of the other good options. Need to plan ahead and buy groceries though.
Geejam Hotel / Bush Bar: serves high quality local fusion dishes at international prices. The Jolly Boys, a local mento band formed in 1945, usually plays on Fridays.
Trident Hotel / Restaurant: beautiful hotel grounds and a restaurant with high quality fusion dishes at international prices. A jazz band usually performs on Saturdays.
Devon House I-Scream: located inside the Errol Flynn Marina park of Port Antonio, serves delicious local flavors ice cream.
Piggy's Jerk Center: arguably Port Antonio's best jerk chicken (despite the name, Piggy doesn't sell pork), located where the road forks in town.
Craft Village: located on the right side of the main road as you drive from San San into Port Antonio, this little craft village sells carvings and various souvenirs and has a bar and small restaurant.
Boston Jerk Center: world famous clutter of jerk pits and the epicenter of Jamaican jerk (chicken, pork, fish, lobster), overrated in our opinion, check carefully which pieces they put in your container.
Juici's: this local fast food chain serves everything from patties (beef, chicken, veggie, etc) to local favorites like oxtail, curried goat, fish and soups, but they often run out of things. Closed on Sundays. Located on the other side of Port Antonio, as you leave town towards Kingston.
Juici's / Tastee's express patty stalls: both of these local fast food chains have small outlets in Port Antonio that sell fresh patties and coco bread
Money
There are several banks with ATMs in Port Antonio. Most of them accept major debit and credit cards and disburse local currency (JMD).
Gas stations, supermarkets, hotels and the restaurants at Geejam and Trident accept credit cards.
Most other places require cash.
Emergencies
San San police station (off the main road): 993-3220/993-5312
Port Antonio police station: 993-7315
Portland Marine police: 715-4615
Port Antonio Hospital, Naylor's Hill, Port Antonio, 715-5778 or 993-2646-8
Police emergency: 119
Ambulance: 110
Fire emergency: 110
Hurricane update: 116
Office of disaster preparedness & emergency management: http://www.odpem.org.jm/
US Embassy emergency assistance, Kingston: 1-(876) 702-6000 / http://kingston.usembassy.gov/emergency_contact.html